Organization
Carolina Raptor Center
6000 Sample Road
Huntersville , NC 28297
704-875-6521
Website: carolinaraptorcenter.org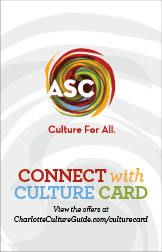 Use your Connect with Culture card!
Buy-one-get-one-free admission Monday-Friday.
Carolina Raptor Center supports environmental conservation and safeguards community health by treating injured and orphaned raptors. At the head of the food web, raptors are leading scientific indicators of a healthy environment. Carolina Raptor Center offers a pleasant afternoon or morning walk along its nature trail. Enjoy over twenty species of raptors - hawks, owls, eagles, falcons, and vultures. Learn how these birds have adapted special...

Carolina Raptor Center supports environmental conservation and safeguards community health by treating injured and orphaned raptors. At the head of the food web, raptors are leading scientific indicators of a healthy environment. Carolina Raptor Center offers a pleasant afternoon or morning walk along its nature trail. Enjoy over twenty species of raptors - hawks, owls, eagles, falcons, and vultures. Learn how these birds have adapted special characteristics to occupy a particular environmental niche and how they serve as indicators of our community's health.

$12 - Adults
$10 - Seniors, Teachers, Military Adults
$8 - Students 4 and Older with Student ID
Free – Children 3 and Under and Members

Please remember that the Raptor Center is closed on Monday and Tuesday until March 1, 2017